Roasted Garlic Chicken With Caramelized Onions
E. Nigma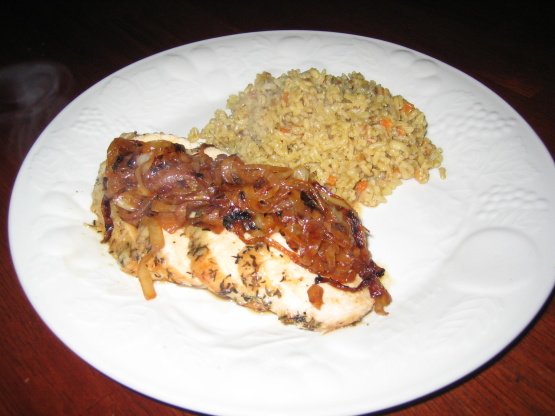 There's just something about the combination of sweet caramelized onions and the roasted garlic crusted thyme chicken breast that makes this dish explode with flavors in your mouth.

Despite the one poor rating given, and only two good ones, I opted to try this one out. Unfortunately, the chicken was unimpressive, and even with the flame very low (as low as possible without it going out) the onions were quickly on their way to turning black in under ten minutes. The garlic, roasted and spread over the chicken, just formed a layer of garlic- I think it could have better been implemented into the sauce rather then put directly on the chicken. I might possibly make this again, but with some changes to better suit my tastes.
Preheat oven to 400 degrees. Slice the top off the head of garlic, place on a piece of foil, sprinkle with salt, and drizzle olive oil over top. Roast about 30 minutes. Once cool enough to handle, squeeze the garlic into a small bowl and mash with a spoon into a paste.
Melt the butter in a pan and saute the onions over medium heat for about 45 minutes. You want the onions to caramelize in their own sugars and take on a nice golden brown color. This may take up to an hour, depending on how dialed your heat is. If they turn black, it was too hot!
Season the chicken breasts with salt, pepper, and thyme on both sides. Saute in olive oil over medium-high heat for about 2-3 minutes per side. You only want a nice golden crust here.
Spread the roasted garlic paste over top of the chicken breasts and finish them in the 400 degree oven for about 10 minutes or until the juices run clear. Let the chicken rest on your cutting board for 5 minutes while you prepare the sauce from the pan drippings.
Drain the excess olive oil from the pan and place over high heat. Deglaze with chicken broth and the optional wine, scraping the browned bits off the pan with a wooden spoon. You want to boil this rapidly and reduce it down to about a third of what it was (or until it's a nice sauce consistency). Taste and correct the seasoning with salt and pepper.
To plate, slice the breasts diagonally, lay the slices one atop the next, drizzle with the sauce, and top with the carmelized onions.