Roasted Garlic Basil Pesto
jenne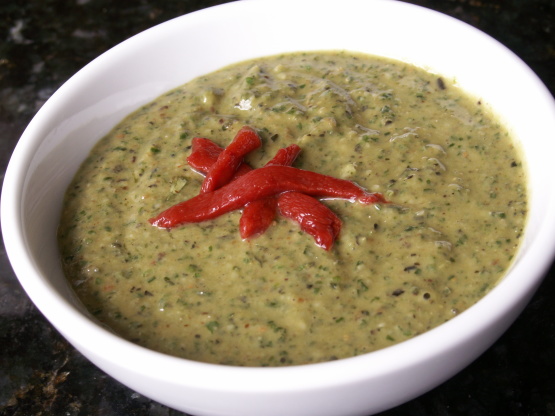 I developed this for a local contest and won! The roasting of the garlic and pine nuts is what does it. It makes a nuttier, mellow pesto without the raw garlic taste. My daughter and her friends like this better, too ....of course they're all kindergarten... :) but our friends from Italy approve too. (And dang, they are picky! But I love cooking for them :) Blanching the basil is optional, but recommended if you want to keep it for a bit or freeze it. (Mmmm....taste of summer in the dead of January....) I like to use this for chicken and pasta and maybe some pesto bread the next day, stirred into risotto,....you know the possibilities are endless!

This is an awesome Pesto. I was just adding the garlic raw to my recipe, but you're right, the roasting makes all the difference. One warning though. I learned the hard way that extra extra virgin olive oil have poly phenols that can turn your recipe bitter when emulsified. I used a light olive oil and it still came out awesome. I hear you can even use grapeseed oil, but i havent tried that yet. Thanks for the recipe...my niece is going to love it for her baby shower tomorrow!
Slice the root end off the garlic and brush with some olive oil Roast garlic, wrapped in foil at 375 for about half an hour. It should be extremely soft and golden brown. Squeeze all the garlic from the cooled head to add to the recipe. (You can also just peel garlic and slowly saute in olive oil until golden.)
OPTIONAL STEP--- Have ready a bowl of ice water. In a saucepan of boiling salted water blanch basil, a handful at a time, 2 seconds, transferring with a slotted spoon to bowl of ice water to stop cooking. Drain basil in a sieve and pat dry. This prolongs the life of the pesto sauce and makes it better for freezing.
In a food processor or with an immersion blender, purée basil with remaining ingredients until smooth and season with salt and pepper. Makes about a cup and a half -- .