Roasted Garlic and White Wine Jelly
rmtgirl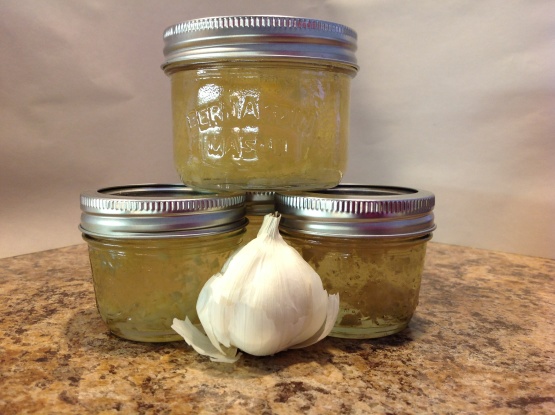 I'm always on the lookout for different kinds of savoury jellies. This one is great-from the local newspaper.

This was my first savory jelly =) and a good one at that. It was very easy to make! I roast garlic often at home and prefer to roast it in a foil lined small loaf pan, I throw a splash or two of water in before I seal it up with a piece of foil on top. I roast it for about an hour. It takes a while but makes for nice, soft, evenly cooked garlic. I added and extra head of garlic since mine weren't very big. I also added a bit of freshly ground pepper and a pinch of truffle salt. I ended up with exactly 4 half pints of jelly and processed it ten minutes. Can't wait to try it on some grilled chicken!
* To roast garlic: Cut off top of bulb, drizzle with a little olive oil and wrap tightly in foil. Bake at 350 for 25-30 minutes until soft.
Place wine and garlic in a large saucepan.
Add sugar and mix well.
Bring to a full boil on high heat and boil hard for 1 minute, stirring constantly.
Remove from heat and stir in pectin.
Stir for a few minutes until pectin starts to set and the garlic is distributed evenly.
Pour into warm, sterilized jars, filling up to 1/4 inch and seal with sterilized snap lids.