Roasted Garlic and Sun-Dried Tomato Spread
Katzen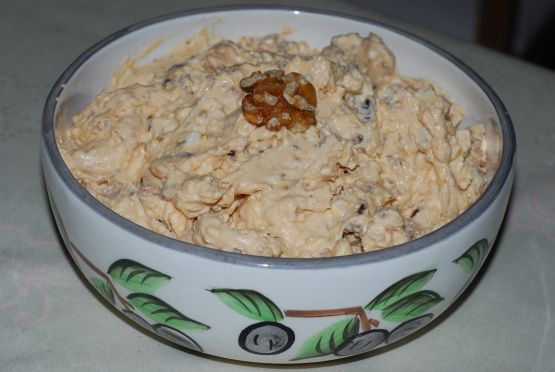 You will not BELIEVE the flavor of this spread till you try it! It creates a taste explosion in your mouth and makes you think you're in sunny Greece. Serve with crackers or pita crisps.

Top Review by Katzen
What an awesome and flavourful dip, perfect for nibblies before dinner. The roasted garlic enhances all of the other flavours, and although I'm serving this tonight, next time I'll allow it to sit overnight in the fridge to let the flavours get together and party. Thanks so much for posting, Semra! Made for Top Favourites of 2009 Tag.
To roast the garlic: Cut top 1/4" off the heads, place on foil and drizzle with olive oil. Enclose in the foil and bake at 350 till soft, about 30 - 40 minutes.
Let garlic cool a bit and squeeze the pulp out of the cut-off top into a bowl. Beat with the cheeses and oregano till smooth.
Drain and chop the tomatoes, and add with the walnuts to mixture, stir.
Cover and refrigerate for at least 2 hours, 24 hours is best to blend flavors.