Roasted Garlic and Leek Soup
Rita1652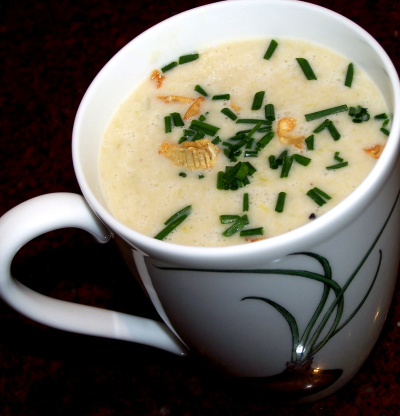 Lets talk comfort food! I'd even make this for Valentines day If you and your Loved One loves garlic you can't go wrong! Roasting the garlic make it so smooth and yummy. Roast an extra bulb of garlic to serve with a crisp French bread. Roasting garlic mellows and sweetens the garlic.

Good soup. I thinned it out with milk, because it was really thick after pureeing. I used one normal head of garlic and one greatheaded garlic. I will use the greatheaded garlic again, since it was so much easier to roast and didn't burn on the edges like the smaller head.
Preheat oven to 350°F.
Cut off top 1/4 inch of each garlic head.
Place garlic heads in small shallow baking dish.
Drizzle oil over.
Season with salt and pepper.
Bake until golden, about 1 hour.
Cool slightly.
Press individual garlic cloves between thumb and finger to release garlic, Should be like butter.
Chop garlic.
Melt butter in heavy large saucepan over medium heat.
Add leeks and onion and saute until onion is translucent, about 8 minutes add garlic.
Reduce heat to low.
Add flour and cook 5 minutes, stirring occasionally.
Stir in hot stock and Sherry.
Simmer 20 minutes, stirring occasionally.
Cool slightly.
Puree soup in batches in blender or processor.
Return soup to saucepan.
Add cream and simmer until thickened, about 10 minutes.
Meanwhile.
Heat olive oil then quickly saute garlic slices till crisp and tan.
Add lemon juice to taste.
Season with salt and white pepper.
Ladle into bowls.
Garnish with fried garlic slices and minced chives.