Roasted Garlic and Buttermilk Salad Dressing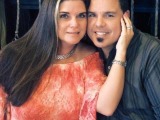 Pour this rich dressing over wedges of crisp iceberg lettuce or quartered heads of romaine for a wonderful salad.
Directions
Preheat oven to 400°F
Cut top 1/2 inch off heads of garlic, exposing cloves.
Place each on square of foil.
Drizzle with oil, then enclose in foil.
Place on oven rack; bake until garlic is tender, about 45 minutes.
Open foil; cool garlic slightly.
Hold 1 head of garlic, cut side down, over medium bowl and squeeze, releasing roasted garlic pulp into bowl.
Repeat with remaining garlic.
Mash until smooth.
Whisk in mayonnaise, buttermilk, Parmesan cheese, lemon juice, and Worcestershire sauce.
Season to taste with salt and pepper.
Cover and chill until ready to use, up to 2 days.
Most Helpful
YUMMY! Used my processor as LP did but added a couple of extra TBSPs of buttermilk to make it smoother. We used it to dip the ribs, spinach quiche, poppers, & cheesy buttermilk drop biscuits (#106305) in at dinner tonight. Wonderful taste. Even our 4 y/o grandson liked it! Wonder about using smoke roasted garlic... Hmmm!
This is one of those recipes were there's not enough stars. *swoons* I halved the recipe and did pretty much what Leggy Peggy did - roasted my garlic with last night's dinner and whirled everything together in the food processor today. Definitely use good fresh Parmesan - it's a major taste component in the dressing. I took one taste and agreed with LP; buttermilk caesar!
Absolutely divine. I baked the garlic yesterday (when something else was in the oven) and made the dressing today. Rather than mash and whisk, I buzzed everything up in the food processor. I bet you could throw in one or two anchovies, to make it a perfect dressing for a caesar salad. Yummo!