Roasted "french Fried" Potatoes (Low Fat)
teresas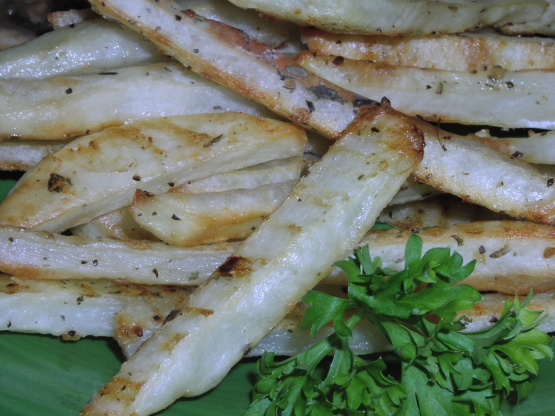 Crisp and delicious. Vary the flavours by adding chili powder or other spices to the coating mixture. Make up a second batch and freeze. To use, just heat them up in the oven on a cookie sheet at 425 F for about 15 minutes.

Wow! We loved these. DH even rated them top of the list for all the un-fried fries. This is easy to prepare. I used a mixture of herbs on mine. I also had to let them cook for an additional 10 minutes and 15 would have been even better. Great recipe and thanks for posting. :)
Peel potatoes and cut into sticks as for French fries.
In a large bowl, combine cornstarch, water, rosemary, garlic, salt and pepper. Stir until smooth.
Add potatoes to cornstarch mixture and toss well.
Arrange potatoes in single layer (potatoes should not touch) on a large baking sheet lined with parchment paper and brush with oil.
Bake potatoes in preheated 425 oven for 15 minutes. Turn potatoes and continue to bake for 10 - 15 minutes longer, until brown, crisp and cooked through.