Roasted Fish in a Mustard Sauce - Barefoot Contessa.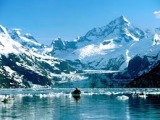 This is a newer Barefoot Contessa recipe that we just tried and loved! There are few ingredients and it is very simple to prepare. The sauce is just delicious and complements the fish extremely well. Enjoy!
Directions
Preheat the oven to 425 degrees F.
Line a sheet pan (with sides) with parchment paper. You can also use an ovenproof baking dish. Just make sure you use one large enough so the fish won't be crowded. If you crowd the fish, it won't cook in the directed time.
Place the fish fillets, skin side down, on the prepared pan and sprinkle generously with salt and pepper.
Combine the creme fraiche, two mustards, shallots, capers, 1 t. salt and 1/2 t. pepper in a small bowl. Mix well.
Spoon the sauce evenly over the fish fillets, making sure the fish is completely covered.
Bake for 10 to 15 minutes, depending on the thickness of your fish, until it is just done. The fish will flake easily, using a fork, at the thickest part when it is done. Be sure not to overcook it!
Serve the fish fillets with the sauce from the pan spooned over the top.
Reviews
Most Helpful
I loved this! At first, I thought that I'd used too much sauce for the thickness of my fish, but after the first bite, I couldn't get enough! I did use a bit more capers, and since mine were large, I chopped them up instead of leaving them whole. Yummy and quick! Thanks for sharing.

This is delicious. The sauce actually reminds me of tartar sauce. I don't generally use tarter sauce, so I am not an expert, but that was my impression. I used salmon and it worked very well. This is very easy and quick. Thanks for posting this lovely recipe.

Delicious recipe, and incredibly easy to prepare. I added sauteed, shaved fennel on top at serving. Had not marked the recipe at preparation and spent several hours tracking it back down again (It's that good)!