Roasted Eggplants and Tomatoes
Barb G.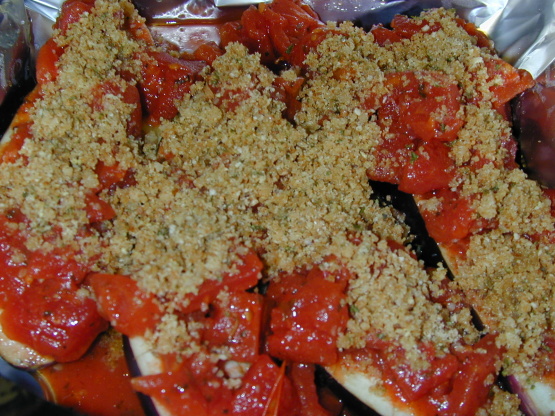 We love eggplant, this is another simple way to fix them. I found that topping the eggplant, after roasting, with slices of Mozzarella cheese is delicious and makes a yummy vegetarian dish.

I didnt have japanese eggplant, so I used regular eggplant, buying the smallest ones I could find. I used fresh instead of canned tomato, and italian bread crumbs! I browned the tops and then put a few thin chunks of fresh mozz. cheese on top, and broiled til it was melted and a bit browned. Served this as a vegetarian meal and it was a huge hit. Thanks so much!!!!!
preheat oven to 450 degrees; line a heavy large baking sheet with foil (Release foil works great).
Cut cross-hatch marks over the cut side of the eggplant; arrange the eggplants and Roma tomatoes cut side UP on the prepared baking sheet; Brush with 2 tablespoons of the oil; sprinkle with salt and pepper.
Whisk 2 tablespoons oil, 2 teaspoons garlic, and 1/4 teaspoon oregano in a small bowl to blend; stir in the can of diced tomatoes; spoon the oil mixture over the eggplants; sprinkle the eggplants with salt& pepper.
Stir the bread crumbs, remaining 2 tablespoons of oil, 2 teaspoons garlic, and 1/4 teaspoon of oregano in another snall bowl to blend; sprinkle the bread crumb mixture over the Roma tomatoes.
Bake until the vegetables are tender and the bread crumb topping is brown, about 30 minutes.