Roasted Eggplant Dip With Thai Flavors
loof751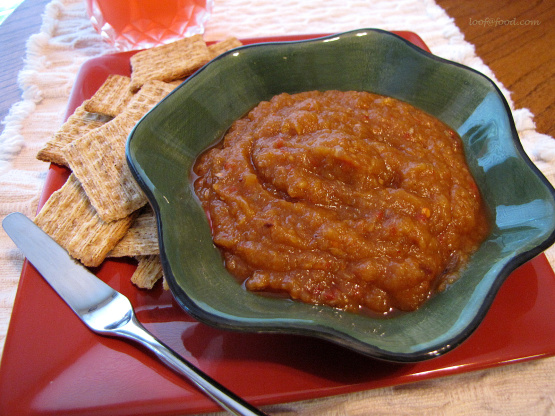 Lime, cilantro, and chili paste impart a Thai sizzle to the natural richness of roasted eggplant. Enjoy this as a dip for thick strips of cucumber, green sweet pepper, carrots, or blanched broccoli, asparagus, or green beans. Or serve as a spread for crackers for toasted bread. From Real Vegetarian Thai by Nancie McDermott.

Boy this is a great dip! Not a fan of onions or cilantro so left them out, otherwise made as directed. The sweet roasted eggplant and sugar was great with the tangy lime juice and the SPICY chili paste! Served on lowfat triscuits and really enjoyed this - thanks for sharing the recipe! Made for My-3-Chefs 2012
Preheat oven to 400 degrees F. Lightly grease a baking sheet. Cut the eggplant in half lengthwise, stem and all, and place on baking sheet, cut side down. Bake until soft, about 30 minutes. Cool to room temperature.
Scoop out the flesh and transfer it to a food processor fitted with the metal blade. Add the sugar soy sauce, salt, chili paste, and lime or lemon juice. Using on-off pulses, process to a thick, coarse puree, stopping to scrape down the sides as needed to grind evenly.
Transfer to a bowl and stir in the chopped cilantro and green onions. Serve at room temp, garnished with cilantro leaves.