Roasted Eggplant (Aubergine) Spread
ChefLee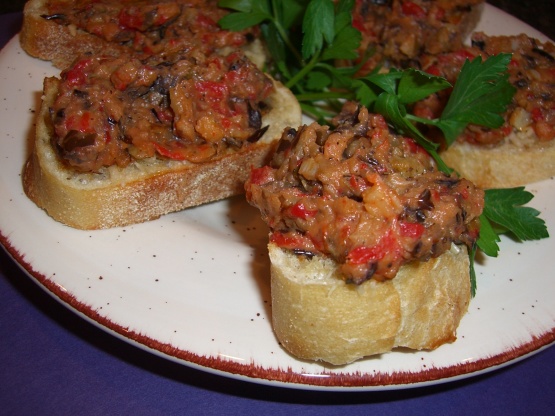 Serve warm or cold as a spread for crostini or toasted Italian bread slices. A suggestion from Katia that I think is fabulous, is to add a sprinkle of balsamic and a dash of parmesan to your bagel, crostini, sandwich etc.. to really put this over the top! Thanks Katia!

Awesome AND simple! When does that ever happen? I added roasted garlic, more capers, and 10 Klamath olives in place of olive oil.
Heat oven to 425°F (220°C).
Arrange the eggplant in a single layer on a nonstick coated baking sheet.
Stir the olive oil and garlic together in a small bowl and lightly brush on both sides of the eggplant.
Roast eggplant slices until lightly browned, turning once, about 20 minutes per side. Cool slightly.
Coarsely chop the eggplant and combine with the red peppers and capers; add black pepper to taste.