Roasted Eggplant (Aubergine) Rolls
Parsley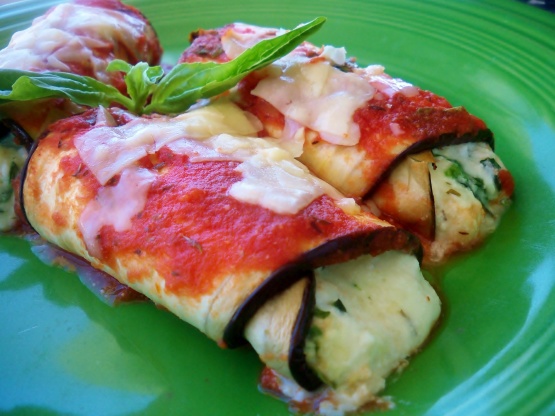 A healthy version to something usually called "eggplant rolatini" in italian restaurants. Very filling! And the robust flavors of this dish will will have your family asking for this on a regular basis. And it was found in Prevention Magazine, so you KNOW it's good for you!!

This is a good recipe that I made a few adjustments to for my own taste. First, I left out the spinach for my family and I added a little salt with the other seasonings. The directions don't say what to do with the onions and diced tomatoes so I added them to the cup of tomato sauce to top the eggplant. I added a little brown sugar to sweeten and remove the acid of the tomatoes. I also salted and drained the eggplant for 30 minutes before putting it in the oven - just what I've always personally done with eggplant. My family are cheese lovers so I also added mozzarella on top of the sauce before baking. Just adjustments to suit our tastes.
Preheat the oven to 350 degrees.
Brush 1 tablespoon of the oil on the sliced eggplant, and roast it until tender, about 15 minutes.
Saute the onion in the remaining 1 tablespoon of the oil until tender, about 3-4 minutes.
Add the tomatoes (with the juice), and simmer for 15 minutes.
In a separate bowl, mix the ricotta, spinach, mozzarella, basil, oregano, and garlic.
Add salt and peper to taste.
Lightly coat a baking dish with cooking spray.
Spoon the cheese mixture on each slice of the eggplant, and roll up like a jelly roll.
Place the eggplant in the dish.
Continue until all the eggplant is used.
Top with the tomato sauce, and bake for 30 minutes.