Roasted Duckling in Raspberry Sauce
Peter J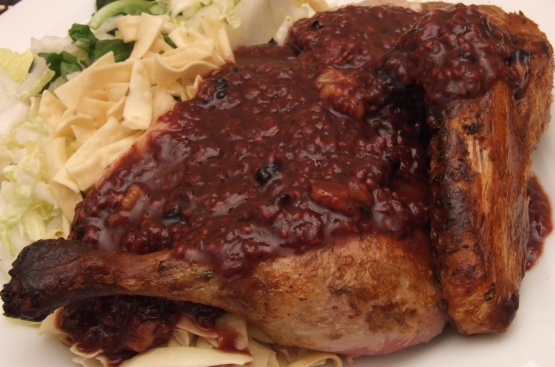 This is a BH&G recipe. Duck is a favorite of my dad's, and the raspberry sauce compliments duck well.

This was simply astounding! Beautiful blend of flavours and being a big duck fan I've cooked it many times and eaten it at big ticket restaurants and this was the best duck dish I've ever tasted. About the only advice I can add is don't change a thing with that sauce! I cooked using a rotisserie on an outdoor grill rather than an oven and if you have one that is really worthwhile to get the duck nice and crispy, it's really worth the effort for this wonderful sauce.
Preheat oven to 350°F.
Sprinkle the raspberries with 1 tsp sugar.
Rinse the duck well, inside and out.
Pat dry with paper towels.
Tie legs together with kitchen string.
Season the duckling with desired amount of salt and pepper.
Place the duck, breast side up, with the wing tips under the back, on the rack of a shallow roasting pan.
Prick the skin all over, generously, with a fork.
Roast the duck for 1&1/2 to 2 hours, until the legs move easily in their sockets (180°F internally).
Cover, and let stand for 15 minutes before carving.
Meanwhile, for the sauce, combine orange juice, broth, and brandy in a saucepan.
Bring to a boil.
Cook uncovered over med-high heat for 8-9 minutes.
Stir in 1/4 cup of the fresh raspberries, the raspberry preserves, ginger,allspice, and a dash of salt.
Simmer for 5 minutes, stirring occasionally.
Remove the saucepan from the heat, and stir in the butter, until it is melted.
Stir in the remaining raspberries, the walnuts, and the sage. Heat for 2 minutes.
Carve the duckling, and serve with the raspberry sauce.