Roasted Duck W/ Spicy Sauce:
Prep 15 mins
Cook 2 hrs 30 mins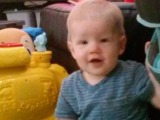 This is the same recipe that they served at one of my favorite restaurants. One of the waitresses is a friend from way back and gave me the recipe. I have made this for my boyfriend several times. He loves the sauce. I was surprised that my son and his girlfriend also liked this dish. They are both very picky eaters.
Directions
Rub duckling inside and out with salt;
Stuff onions inside of cavity and tie legs together.
Place on rack in roasting pan.
Mix boiling water and honey; pour over duckling, letting water run into pan.
(Duckling should not be put down into the water, keep on rack.)
Roast in oven at 350 degrees for 1 hour.
Prick skin to drain excess fat.
Continue roasting until deep brown and juices run clear, 1 to 1¼ hours longer.
Remove from oven.
Increase oven temperatures to 400 degrees.
Duck Sauce:.
Combine all Duck Sauce Ingredients listed together.
Brush duckling with spicy duck sauce.
Return to oven and roast 5 minutes.
May use remaining sauce as a dip for meat.
Garnish with parsley and mandarin orange segments.
Most Helpful
This is my favorite duck recipe. I like to make extra sauce for dipping. If you want to be cheap, you can substitute chicken and it is almost as tasty.