Roasted Corn, Black Bean, and Mango Salad
DeDe3050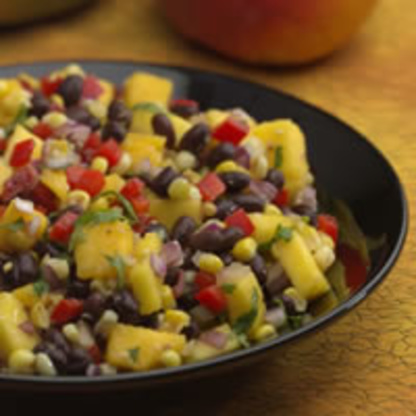 I found this Carribean recipe on another recipe website and am posting it here. Will try it soon.
I really enjoyed this recipe, but did think it tasted better after sitting overnight to help flavors meld. I unfortunately had no fresh cilantro (love cilantro!), so had to leave that out. Went well for a side to Mexican food dinner and was relatively quick to put together. Made for I recommend tag game.
Heat oil in a large non stick skillet over medium-high heat.
Add garlic and cook, stirring, until fragrant, about 30 seconds.
Stir in corn and cook, stirring occasionally, until browned, about 8 minutes.
Transfer the corn mixture to a large bowl.
Stir in mango, beans, onion, bell pepper, lime juice, chipotle pepper, cilantro, cumin, and salt.
Serve at room temperature.
TIP: Ingredient Note: Chipotle peppers are smoked jalapenos with a fiery taste that are canned in adobo sauce. Look for them in the Hispanic section of large supermarkets and in specialty stores.
MAKE AHEAD TIP: Cover and refrigerate for up to 8 hours. Serve at room temperature.