Roasted Corn and Orzo Salad
Dan330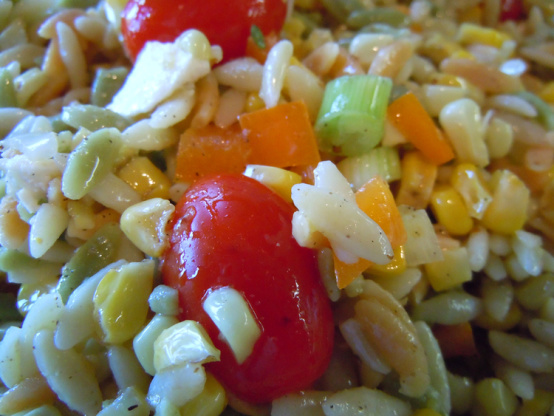 This is one of my summertime favorites. With fresh vegetables, roasted corn, and feta cheese covering fresh orzo, this will be one of yours too.
Prepare the vinaigrette by mixing the red wine vinegar, mustard, shallots, and olive oil in a medium bowl.
Husk and remove kernels from cobs of corn. Then sprinkle with the olive oil and use salt and pepper to season to taste. Spread onto a baking sheet and roast in oven at 400 degrees for 15 to 20 minutes until the corn is tender.
Prepare the vegetables by dicing the bell pepper, slicing the green onions, halving the tomatoes and chopping the marjoram.
Make the Orzo by following the directions on its box.
Toss the vinaigrette, corn, veggies and Orzo. Crumble the feta cheese on top and serve.