Roasted Citrus-Soy Chicken Wings
teresas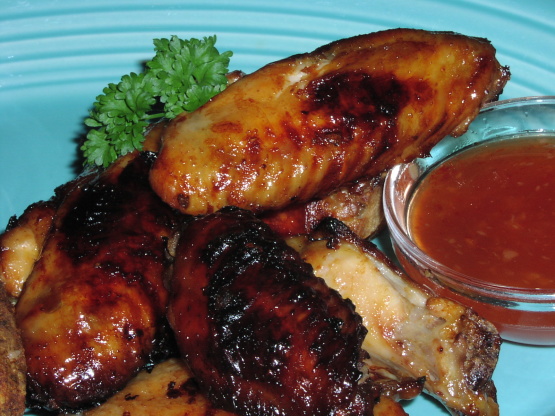 Another recipe I found on MyGourmetConnection.com that sounds so good. Here is what is stated about the recipe: " These oven-roasted wings get plenty of flavor from a marinade of orange juice, soy sauce, sriracha and garlic. Serve by themselves, or with a little bit of sweet Thai chili sauce for dipping." Update 10/13/2013: I have now made these deliciously different wings and loved them. I still made a batch of baked buffalo wings for DH but I just ate these wings. The only change I made was to decrease the oven temp to 425 degrees, as mine seemed to be getting very caramelized/charring at 450.

Made these without the chili sauce, and marinated them for around 18 hours. That time seemed fine. The marinade was super, flavorful, and delish. We enjoyed these during one of the football games. Wish I had made more, they were gone pretty quick.
Combine the orange juice, soy sauce, garlic, sriracha, rice wine vinegar and sesame oil in a small bowl. Place the chicken wings in a self-sealing freezer bag and add the marinade. Press out all the air, seal and refrigerate for 6 to 24 hours, turning once or twice to ensure even flavor.
Preheat the oven to 450°F Line a rimmed baking sheet with aluminum foil and spray with nonstick spray. Arrange the chicken wings in a single layer, skin side down. Discard the remaining marinade.
Roast the wings for 15 minutes, then turn skin side up. Baste with any juices that may have accumulated in the pan and roast for an additional 10 to 15 minutes, until the skin is golden and crisp and the chicken is cooked through.
Serve with sweet chili sauce for dipping.