Roasted Chickpeas - Ww Core
dojemi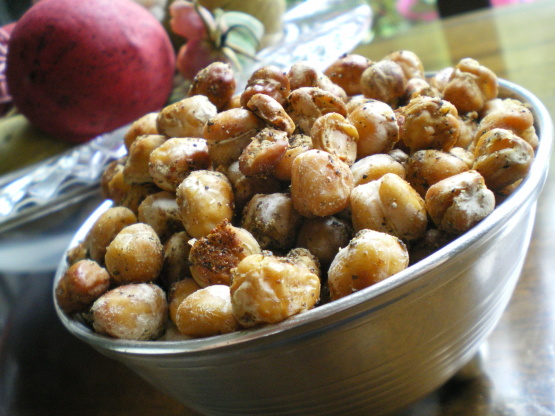 These are a wonderful alternative to nuts. Snack on them, or use them to top salads. You can easily double this recipe, store them in zip-top bags or airtight containers. You can also experiment with various spices or seasoning mixes in addition to the garlic powder.

Really enjoyed these. Seasoned with paprika and garlic salt, baked at 425 for about 25 minutes. Make sure to give them plenty of room on the pan, they're not as crisp if they're crowded.
Preheat oven to 350 degrees.
Rinse and drain chickpeas.
Lightly coat baking sheet with nonstick spray.
Spread chickpeas on baking sheet and sprinkle with garlic powder, salt and pepper.
Toss to coat.
Bake on bottom rack of oven, shaking pan every 15 minutes. Bake 45 to 50 minutes, until browned and crunchy. Cool completely before serving.