Roasted Chicken With Thyme and Honey Cream
Baby Kato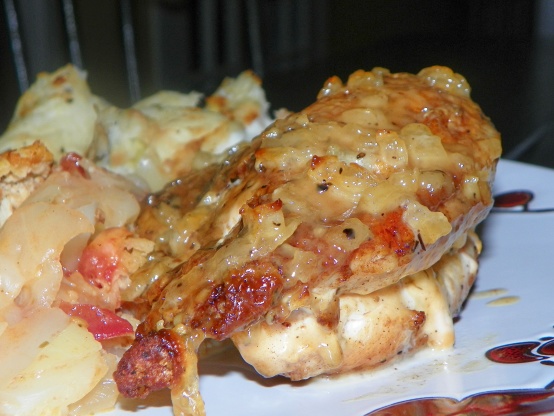 An easy and delicious way to serve chicken! Cooking chicken with the skin and bones takes a little longer but gives a more juicy and tasty result. From Egypt Cooking Today. Hope you enjoy!

This was OMG Great! The honey-cream sauce was just the right blend of sweet yet so creamy and light. And the chicken was moist and flavorful. I will make this again and again (and again and again), and I will not change a thing, except perhaps increase the amount of honey-cream sauce so we have extra to top a side of rice, as someone had suggested. This will surely be included at the top of my Favorite Recipes Tried in 2011. Thank you for sharing your recipe, ~Leslie~.
Preheat oven to 375°F (190°C).
Sprinkle chicken breasts with half each of the salt, pepper and thyme.
In a skillet, melt butter over medium-high heat.
In batches as necessary, brown chicken breasts, skin side down, for 2 to 3 minutes.
Turn and brown other side for 2 to 3 minutes.
Transfer to baking dish skin side up and set skillet aside, reserving any butter and brown bits.
Roast chicken in oven for about 35 minutes or until well browned.
Meanwhile, return skillet to medium heat and heat for 30 seconds.
Add onion and remaining salt, pepper and thyme and cook, stirring constantly, for about 3 minutes or until onion is softened.
Add wine and bring to a boil, scraping up any brown bits stuck to pan.
Stir in cream and honey and boil gently, stirring often, for about 5 minutes or until sauce is thickened.
Pour sauce over chicken in dish and roast for about 10 minutes longer or until chicken is no longer pink inside and sauce is bubbling.