Roasted Chicken With Rosemary
Zurie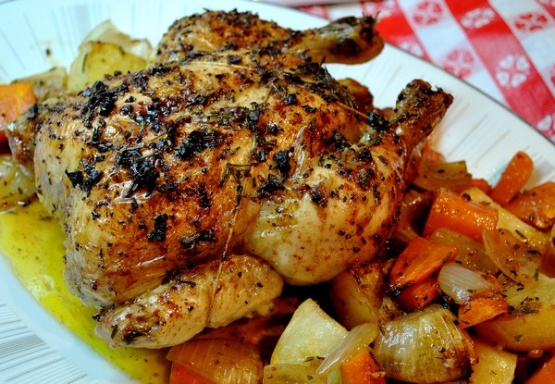 Cooks like a pot roast, but with whole chicken instead. Note: Instead of basting, chicken may be cooked breast side down for 1 1/2 hours, then flipped for 30-60 minutes to brown the top.

Top Review by Zurie
Oh wow, the lovely smell of garlic and rosemary, heating in the melting butter! I used a smaller chicken and less of the veggies (we're only 2), but didn't stint on the rosemary, garlic and butter! I often roast chicken the same way, and with lots of veggies (a meal in one), but it's been a long time since I used butter Usually it's an oil). I used a lot of butter: I believe in natural dairy foods! Simple, wonderful -- and our chicken was juicy and delicious. Thanks, Scarlett!!!
In a small saucepan, melt butter and stir in the seasonings. Place chicken on a rack in a roasting pan, tie drumsticks together with kitchen string.
Spoon half of butter mixture over chicken. Place potatoes, carrots, and onions around chicken. Drizzle remaining butter mixture over vegetables.
Cover and bake at 350°F for 1 1/2 hours, basting every 30 minutes. Uncover, bake 30-60 minutes longer or a meat thermometer reads 180°F and vegetables are tender, basting occasionally.
Cover with foil and let stand for 10-15 minutes before carving. Serve vegetables with roast.