Roasted Chicken With Potatoes and Spinach
NNChick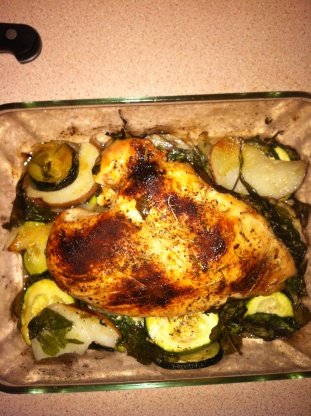 On a cold day, nothing smells better than fresh herbs, onion and chicken baking in the oven. With the spinach stirred in, it's a one-dish meal. Recipe is from the Dallas Morning News.

It was very good. I only was making for 1 person, so I used one (large) chicken breast, and I added zucchini to the spinach and potatoes. I used red potatoes because that is what I had. It was fast, it was rustic, it was tasty. The lemon gave it a nice citrus flavor that went very well.
Preheat oven to 450°F In a very large roasting pan, toss the potatoes, spinach and onion with the olive oil. Season with salt and pepper and spread in an even layer.
Season the chicken breast with salt and pepper, sprinkle with the paprika and rosemary; set on top of the vegetables.
Cover the pan with foil. Roast the chicken in upper third of oven for 20 minutes. Remove foil and roast for 30 minutes longer, until the chicken is cooked through and the vegetables are tender. Transfer the chicken to plates and spoon the vegetables alongside. Serve with lemon wedges.