Roasted Chicken With Cheesy, Creamy Sauce.
Baby Kato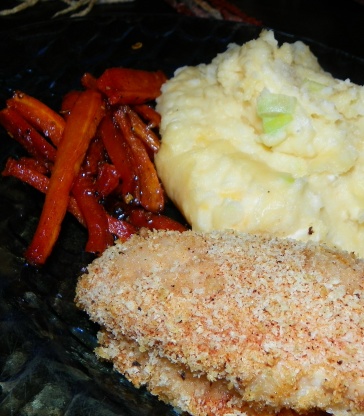 You could hear the lunch bell ring from all the way over at the barn. Dong! Dong! Dong! "It's time for lunch!" Jerry shouted. He jumped down off the tractor and headed for the old pickup truck. "Whata we having?" yelled Bubba. Dennis smiled, "We having that lip smacking good chicken with that sauce!" Everyone piled into the back of the truck and made their way to the table, it was piled high with tasty chicken, sauce in a gravy ladle and some nice red tomatoes. Hurry up and pass that down here...Granddad boldly nodded. Feel free to add the sauce to potatoes or vegetables as suggested by Jen T who must be a genius! Thanks, Jen! But most of all *enjoy* and gather around the table and rest a spell.

This was just okay... the gravy was really cheesy, and I love cheese. Not sure I'd make this again...
1⁄4 cup mayonnaise (can use light or fat free)

1

cup corn flake crumbs (judge the size of your chicken, more may be needed)

1

teaspoon salt (optional-seasoning salt)

1

teaspoon garlic powder (optional)
1⁄8 teaspoon paprika

1

dash ground red pepper (optional spicy)
1⁄8 teaspoon ground pepper

Gravy Sauce

1⁄2 cup milk (can use skim)
1⁄4 cup mayonnaise (can use light or fat free)
1⁄4 cup cheddar cheese, grated
1⁄4 teaspoon ground thyme
1⁄8 teaspoon pepper

1

dash Tabasco sauce (optional)
Preheat oven to 350 degrees or 176 Celsius.
Using a bowl, roll chicken breasts thinly with mayonnaise.
Put corn flake crumbs in a zip-loc bag. with salt, pepper, garlic powder, paprika, and red pepper (if using).
Throw chicken (covered with mayo) in corn flake mixture.
Spray a baking pan with cooking spray, and place chicken in sprayed pan.
Bake for 25 to 35 minutes (if larger chicken breast adjust for longer cooking time). Internal temp of chicken must be 180 degrees or 83 Celsius.
Easy Sauce: In medium sauce pan whisk milk into mayonnaise, and warm over medium heat, stirring occasionally.
Add cheese, thyme, pepper, and optional Tabasco sauce. Adjust seasoning to taste, stirring until cheese is melted.
Heat until thickened slightly, (about 3 minutes).
Serve chicken on platter with sauce in gravy boat.