Roasted Chicken, New Potatoes & Asparagus
Prep 10 mins
Cook 40 mins
A complete meal in one recipe. Simple, delicious goodness! From "Quick from Scratch One-Dish Meals"
Directions
Heat oven to 425. In a large roasting pan toss potatoes and garlic with 1 1/2 tablespoons oil and 1/2 teaspoon salt. Put the pan in the upper third of the oven and cook, stirring once, for 15 minutes.
Coat chicken with 1 tablespoon of oil; arrange chicken skin side up, in a smaller roasting pan. Sprinkle with lemon juice, 1/4 teaspoon salt, and 1/4 teaspoon pepper. Top each breast with a piece of butter.
Stir potatoes. Put chicken in the oven and cook for 10 minutes. Add the asparagus, remaining tablespoon oil, and 1/8 teaspoon each salt and pepper to the potatoes. Stir and continue cooking until chicken, potatoes, and asparagus are done, 10 to 15 minutes longer. Remove both pans from oven. Toss vegetables with lemon zest and serve with chicken.
Most Helpful
We enjoyed this complete meal. I would definitely give the roasted potatoes and asparagus 5 stars. That was absolutely delicious! I thought the chicken could benifit from some browning though. Perhaps browning the chicken on the stovetop before putting it in the oven? I thought the chicken was a bit too plain and didn't have that roasted taste or texture. I will definitley be making the roasted potatoes and asparagus again. Yummy!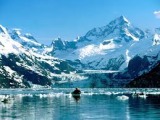 I actually prepared this for Sunday brunch, and it was sensational! I didn't realize I needed "skin-on" boneless chicken, since all I had was skinless. But it didn't matter... This was so delicious, and such a breeze to make at that. I served this with my "Quick & Delicious Hollandaise recipe (Recipe #363705). I snapped a photo, then slyly I did my favorite thing to my brunch potatoes... I topped them with some Hollandaise! Mmm! What wonderful flavors in this classic recipe. I could make this once a week and never tire of it! Thanks for a real winner! Made for PAC Spring 2010.