Prep 30 mins
Cook 30 mins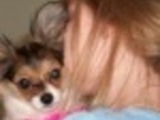 This was the 4th place winning entry in the 2005 National Chicken Cooking Contest. I've made it several times and it is very easy and very tasty.
Directions
Place chicken in 1-gallon zip bag. Add Lemon Vinaigrette, seal and marinate in refrigerator at least 30 minutes.
Cut each tomato into quarters, lengthwise. Place in medium bowl and toss gently with sugar, salt and olive oil. Spoon tomato mixture onto rimmed cookie sheet so that tomato pieces don't touch. Place in 375 degree oven and roast for 30 minutes.
Spoon tomatoes and all accumulated juices into small bowl. Add cheese, basil leaves and pepper, tossing gently. Let sit at room temperature while chicken cooks.
Remove chicken and discard marinade. Place chicken on same cookie sheet used to roast tomatoes. Roast at 350 degree for about 30 minutes, turning once.
To serve, place each chicken breast half on warmed dinner plate. Spoon 1/4 of tomato mixture over top.
Lemon Vinaigrette: In small bowl, whisk together olive oil, lemon juice, garlic, kosher salt and pepper.
Most Helpful
Fantastic! We loved this....the chicken was outstanding....I will make this again for sure....
I made this last night for my husband and it was so good that I decided to make it again for dinner guests. The only problem I encountered, if you can call it a problem, was that the chicken looked "uncooked" at the end. I put it under the broiler for a few minutes to brown it up a bit, but it probably wasn't necessary. Great recipe though!!
I combined this with the chicken caprese recipe. I did not use the lemon vinaigrette, but I'm sure that would give it even more flavor. I used garlic and onions sauteed, then I added the roasted tomatoes.