Roasted Chicken and Cannellini Bean Salad
JustJanS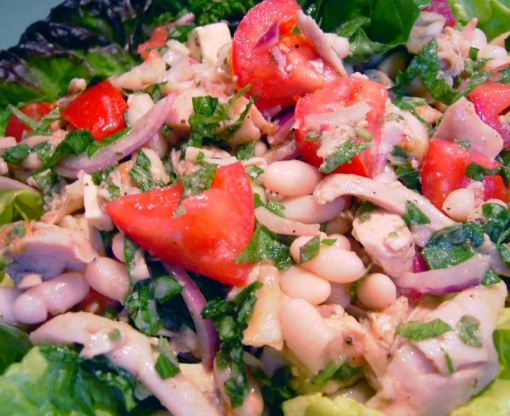 This is a wonderfully refreshing and flavorful salad. Add some crusty bread, or fresh pita and this makes a great light meal. I adapted this from a Cooking Light recipe. The flavors are even better after the salad has sat in the refrigerator for a few hours or overnight. If you decide to make this ahead of time, do not add the fresh mint and basil until just before serving.

Yummmmmmy! We really enjoyed this salad. I halved the salad portion but kept the dressing true to measurment. I also used a bit less mint- only to my family's preference. I also had to substitute the Greek seasoning with dried oregano- which we had on hand. We served over baby greens and with crusty french bread. I think this salad would also be great with garbanzos! Really good recipe- thanks for sharing!
To prepare salad, place salad ingredients in a large bowl, toss gently to combine.
To prepare dressing, combine vinegar and remaining ingredients, stirring quickly with a whisk.
Drizzle over salad, tossing gently to coat.