dojemi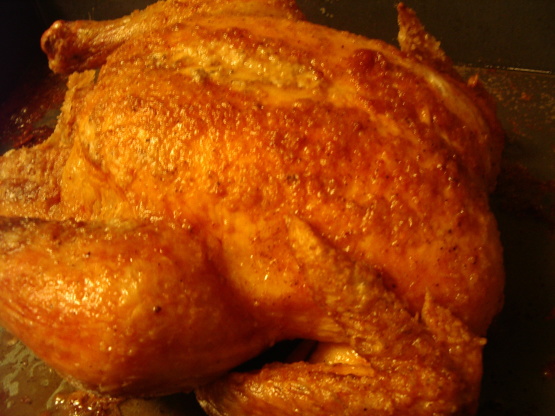 My DH and I have started The South Beach Diet. This is absolutely delicious. Cook time is approximate as the Perdue Oven Stuffer Roasters have a pop-up timer. Sorry! But if you're on The Beach......after cooking discard the crispy skin. If you're not on The Beach you can substitute the table salt with Lawry's Seasoned Salt (which includes sugar as one of the ingredients) and enjoy the crispy skin (which isn't healthy for you but is oh so good). : )
I was looking for a roasted chicken recipe to use with my new stand up chicken cooker. This fit perfectly. We loved the crunchy skin and the chicken was moist and delicious. Thank you.
1

perdue oven stuffer roasting chicken
garlic pepper seasoning (with no sugar added)
Prep chicken by cleaning out cavity and rinsing.
Pat dry.
Rub entire chicken with Extra Virgin Olive Oil.
Sprinkle liberally, all over, with salt and garlic pepper.
Roast in a 350 degree oven till done.