Roasted Cauliflower With Onions and Fennel
JustJanS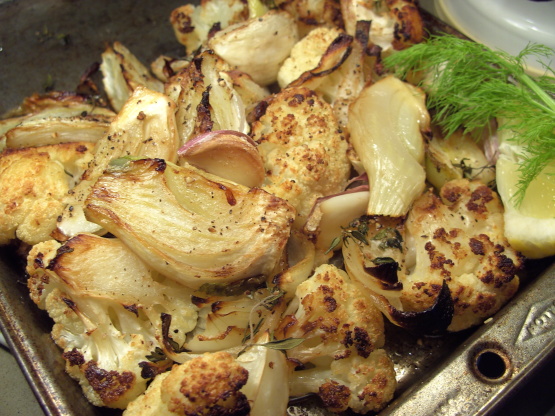 From the March 2007 Gourmet magazine, to which I have subscribed for more than 35 years. This combination is outstanding and the prebrowning of each vegetable is key. (Yes, it's more work, but it is worth it!) It is delicous hot and even better at room temperature.

This is a great recipe. Very simple, and the vegetables come out crunchy with a nice roasted flavor. I served it with lemon, and the acid helped bring out all the flavors. It does need a little more color, though, so next time I think I will try it with purple onion or garnish with parsley or something. Thanks for posting!
1

(1 1/4 lb) cauliflower, cored, cut into 1-inch florets

6

tablespoons olive oil, divided

2

(1/2 lb) onion, halved lengthwise, cut into 3/4-inch-wide wedges with some core still attached, peeled

2

fresh fennel bulbs, halved lengthwise, cut lengthwise into 1/2-inch-wide wedges with some core still attached (about 1 pound total)

8

small garlic cloves, unpeeled

15

sprigs fresh marjoram
Preheat the oven to 425°F Toss cauliflower and 2 T olive oil in a large bowl. Heat a heavy large skillet over medium-high heat. Add cauliflower and sauté until beginning to brown, about 5 minutes. Transfer cauliflower to rimmed baking sheet.
Add 2 T oil to the same skillet. Add onion wedges and cook until browned on 1 side, about 3 minutes. Using spatula, carefully transfer onions to baking sheet with cauliflower, arranging wedges browned side up.
Add last 2 T oil to same skillet. Add fennel; sauté until fennel softens slightly and starts to brown, about 5 minutes. Transfer to same baking sheet.
Scatter garlic and marjoram over vegetables. Sprinkle with salt and pepper. Roast until vegetables are caramelized, about 25 minutes. Serve hot or at room temperature.