Roasted Cauliflower With Cheese Sauce
amid9603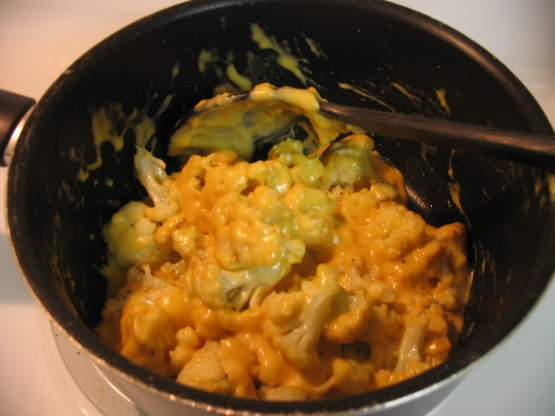 Roasting the cauliflower first with olive oil, salt and pepper, then topping it with a wonderful gruyere cheese sauce gives this side dish wonderful flavor. Delicious!

I've made a cheese sauce like this many times before, but for some reason they generally don't come out as well as this recipe did. Of course, I usually don't measure out my ingredients as carefully as I did this time. Therefore I do recommend you use this recipe for your cheese sauces. I also added some dry mustard, and used a low fat cheddar cheese and low fat milk to reduce calories. I roasted a bag of frozen cauliflower, broccoli and carrots. Very tasty, thanks!
Preheat oven to 400°.
In a large bowl, toss together cauliflower florets, olive oil and salt and pepper.
Transfer to large rimmed baking sheet.
Roast, stirring occasionally for 30 minutes or until tender.
Near the end of roasting time, in medium saucepan, melt butter over medium heat, whisk in flour until blended and slightly browned.
Gradually whisk in the milk until smooth.
Add salt and pepper and simmer for 3 minutes, whisking occasionally.
Remove pan from heat and whisk in cheese until melted and well blended.
Place cauliflower on serving platter and spoon sauce on top.
Sprinkle with parsley for garnish.