Roasted Cauliflower in Lemon-Tahini Sauce
Zurie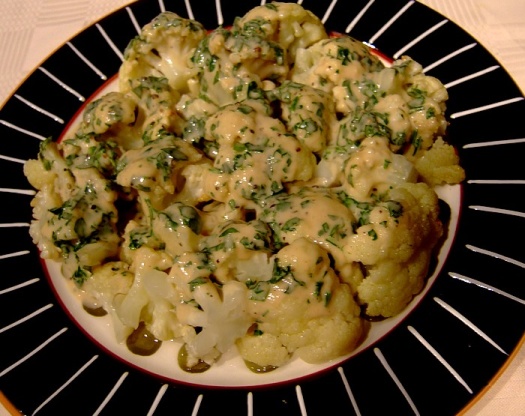 Vegetarian Times. October 2006.

Personally, I really enjoyed this! I simply coated the cauliflower using an oil spritzer, and it roasted nicely, but really I think steaming it would be just as tasty. As for the sauce, it has a beautiful flavor; I used only 1 tsp oil for sauteing the garlic, and added a little extra lemon juice. Didn't have any fresh parsley, but I'm sure that would make it even better! Will certainly make this again!
Place oven rack in top position. Preheat oven to 425°F
Toss cauliflower with 2 teaspoons olive oil, and season with salt.
Spread on large cookie sheet, and bake 12 to 15 minutes, or until cauliflower is fork-tender and slightly browned.
Meanwhile, heat remaining 2 teaspoons olive oil in small saucepan over medium heat. Sauté garlic in oil 1 to 2 minutes, or until fragrant.
Stir in tahini, lemon juice, 5 Tbs. water and salt. Simmer over low heat 1 to 2 minutes. Remove from heat.
Divide cauliflower among plates. Whisk sauce, then spoon over cauliflower.
Sprinkle with parsley and sesame seeds, and serve.