Roasted Cauliflower, Garlic and Coconut Soup
Rita1652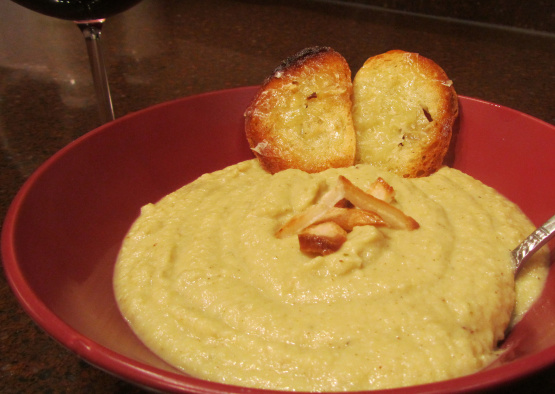 Perfect for a cold snowy day. Warm up with this thick, creamy, coconut, cauliflower soup flavored with roasted garlic, herbs and spices. Caramelizing of the cauliflower and garlic sweetens and concentrates the flavors. Cumin and curry can be added for a more exotic flavor adjusting to your likeness.

This is a great soup! I used three cups of broth and one can of coconut milk and the thickness was perfect for me. I think the 1.5 quarts called for I the recipe would have made it too thin. That being said, I loved the rich and creamy flavor. Super easy to make too!
Preheat oven to 400 degrees.
Melt 1 tablespoon coconut oil on a sheet pan. Toss in cauliflower, garlic, sprinkle with salt, pepper, and thyme. Spread into a single layer.
Roast for 30 minutes turning after 15 minutes.
Heat remaining coconut oil in a large sauce pan over medium heat.
Add the onion and saute until tender, about 5-7 minutes.
Add the broth, coconut milk, nutmeg, curry, cumin and cauliflower mixture, bring to a boil, reduce the heat and simmer, covered, for 20 minutes.
Puree the soup until it reaches your desired consistency with a stick blender or stand blender.
This is rib sticking thick so you can thin if desired with additional stock.
Mix in the cheese, let it melt and season with a good amount of salt and pepper.
Plate and top with toasted coconut.
Serve with thinly sliced toasted Italian bread spread with coconut oil and topped with some shredded Gruyere cheese.