I think this is a Julie LeClerc recipe from a New Zealand magazine.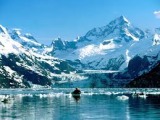 Excellent roasted cauliflower. I absolutely love it and could probably eat the whole batch by myself! I set my oven to 350 degrees F. and roasted the cauliflower for 40 minutes, stirring occasionally. It turned out perfectly. The only change I made was to lessen the amount of oil by almost half. It seemed enough for the size head of my cauliflower. I adored the toasted pine nut addition. Yum!
Heat oven 170 C.
Cut cauli into small, even flowerets.
Place in baking dish.
Mix oil and garlic together.
Drizzle over cauliflower.
Season with salt and pepper.
Toss well to coat.
Roast 30 - 40 minutes till golden brown and tender.
Scatter with parsley and pine nuts and serve.