BarbryT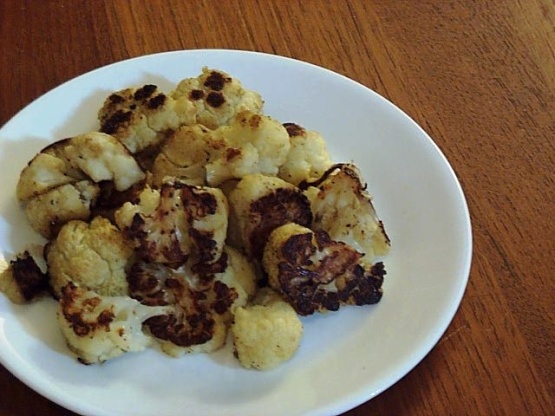 After reading pages of discussion about this dish over at eGullet, I knew I had to try it. This is wonderful! I'm not sure it tastes like french fries as much as they claim, but cauliflower cooked this way has a wonderful earthiness. Definately cut it as thinly as possible, because the browned bits are the best!

Fantastic Recipe! Truly a keeper and one I will make many times over. Only changes made was the addition of 1 TBS of canned minced garlic. Honestly I can tell you without the additions it would have still been a 5 star recipe! I made special point to slightly burn the cauliflower and as a result they were even more spectacular. Thanks for agreat recipe!
Preheat oven to 400°F
Trim and wash the whole head of cauliflower then slice it about 1/4 inch thick. There will be lots of small pieces and several large lacy slices. Place the cauliflower into a large bowl and drizzle on the olive oil, salt and pepper to taste, toss to coat.
Spread the cauliflower evenly ontoa sheet pan and put in the oven.
After about 10 minutes, stir them around to get the pieces on the edge of the pan moved towards the middle to encourage even browning, stir again every 5-10 minutes.
This should take a total of 20 - 30 minutes to get nice browned crispy bits.
VARIATION:.
Add 1 cup of dried, cooked chickpeas, and 1 medium red onion, cut into thick half rings before tossing with the oil and salt. This makes a delicious topping for a salad or for cooked pasta.