Roasted Carrots and Parsnips With Meyer Lemons
Bergy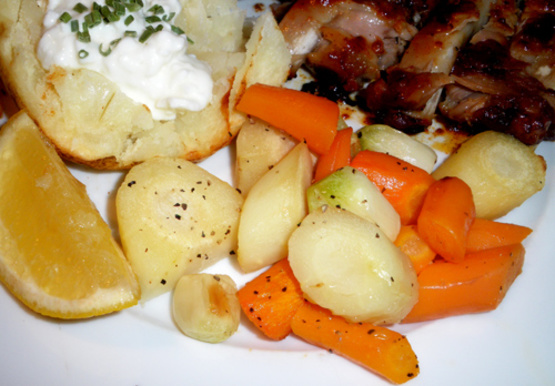 A gift of a half dozen Meyer lemons sent me in search of recipes that would use this citrus to it's full advantage. Much sweeter than the common lemon, the flavor of Meyer lemons is a cross between a mandarin orange and a lemon. The zest is so tender, you can actually eat it. This recipe orginated on epicurious.com and includes my alterations to reduce the fat and calories without diminishing the flavors.
vegetable oil cooking spray

1

lb large carrot, peeled, cut diagonally into 1/4-inch-thick slices

1

lb large parsnip, peeled, cut diagonally into 1/8-inch-thick slices

20

large garlic cloves, peeled

1

meyer lemon, halved lengthwise, cut crosswise into 1/8-inch-thick slices, seeds removed

2

tablespoons olive oil

1

teaspoon kosher salt

Garnish

2

tablespoons chopped fresh parsley
1⁄2 meyer lemon, juice of

1

tablespoon extra virgin olive oil (optional)
1⁄2-1 teaspoon kosher salt
Spray two large rimmed baking sheets with nonstick spray. Position 1 rack in top third and 1 rack in bottom third of oven and preheat to 375°F.
Combine carrots, parsnips, garlic, lemon slices, and 2-3 tablespoons oil in large bowl.
Sprinkle with 1 teaspoon salt and toss to coat evenly. Divide mixture between prepared sheets, spreading in single layer.
Roast vegetables 15 minutes. Stir vegetables on each pan and return to the oven reversing the order. (So the pan on the top finishes on the bottom and vise versa.) Roast until vegetables are tender and brown at edges, about 20-22 minutes longer.
Season with pepper and salt. Transfer vegetables to serving platter. Squeeze 1/2 lemon on the roasted vegetables. Garnish with parsley.
If desired, drizzle with remaining 1 tablespoon oil.
Serve warm or at room temperature.