Roasted Butternut Squash, Red Grapes and Sage
WiGal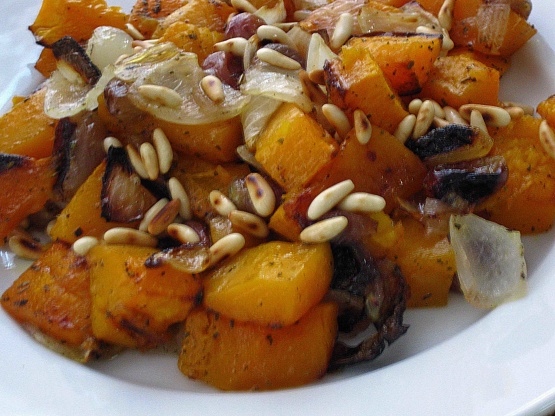 If you want something different to do with the season's harvest of winter squash, try this delicious roasted side dish.

YES! This is the first five-star rating I have EVER given! I roast a lot of veggies, including butternut squash, but I never would have thought of using the grapes. It's a wonderful combination with the onions and squash, and visually attractive, too. I'm afraid I disagree with Happy Harry #2 about the grapes, they are really good all caramelized and sweet and soft, not soggy, after the full roasting time. They'd be good even roasted by themselves. The pine nuts add a firm, crunchy texture that complements the softer grapes and squash. Pecans or walnuts would probably work too. Oh, I did use all oil instead of butter, but I'd use the butter for a special meal, like Thanksgiving.

Added 12/20/10: Out of sage? Try rosemary! It's a nice variation. If you have neither, thyme is goo, too.
Preheat oven to 425 degrees F.
In a large bowl, combine the squash, grapes, onions and sage; drizzle in the oil and melted butter.
Season generously with salt and pepper and toss to coat everything well.
Spread the mixture on a large rimmed baking sheet and roast until squash and onion begin to brown -- about 50 minutes.
Sprinkle with pine nuts and serve.