Roasted Butternut Linguine
Satyne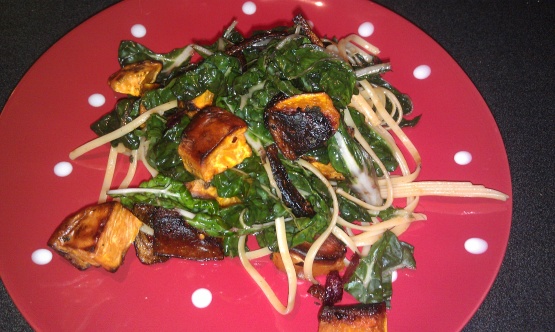 DH and I made this easy tasty recipe submitted by Kim Caputo in the Aug/Sept 2011 "Taste of Home Magazine." The only change we made was to top with freshly grated Romano cheese. We also used fresh linguine. We will be having this again!

Top Review by WiGal
Used sweet potato instead of squash. Loved roasted sweet potato and onion so knew we would like! I added garlic to medley. I sautéd fresh sage leaves in butter as I think raw sage is too strong. Next time I would also use a shorter pasta. Sprinkled Parmesan on top. I have now learned that chard would keep longer if I had separated the leaves from stems, and used the leaves up first and that the stems will keep for quite a while. Thanks for sharing.
Place the squash and onion in a 15-in.x10-in.-x1-in. baking pan coated with cooking spray. Combine the oil and the pepper flakes; drizzle over vegetables and toss to coat.
Bake, uncovered, at 350 degrees F for 45-50 minutes, or until tender, stirring occasionally.
Meanwhile, cook pasta according to package directions; drain and place in a large bowl. Add the squash mixture, Swiss chard, sage, salt and pepper; toss to combine.