Roasted Brussels Sprouts With Hazelnut Brown Butter
GaylaJ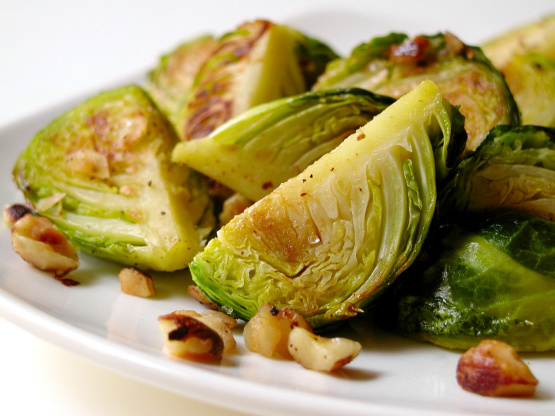 Roasting brings the best out of many vegetables, and Brussels sprouts are no exception. The browned butter and hazelnuts are wonderful with the roasted sprouts in this recipe, adapted from Eating Well (October/November 2006).
Position rack in bottom third of oven and preheat to 450°F.
Put butter on a large rimmed baking sheet and roast until the butter is melted, browned and fragrant (4-5 minutes).
Remove baking sheet from oven and toss Brussels sprouts and hazelnuts with the browned butter; sprinkle with salt and pepper.
Return to oven and roast for 7 minutes; sprinkle with water, toss, and continue roasting until the sprouts are tender and lightly browned (another 7-9 minutes).
Note: I used quite a bit more butter and added extra hazelnuts.