Roasted Brussels Sprouts With Garlic and Onions
teresas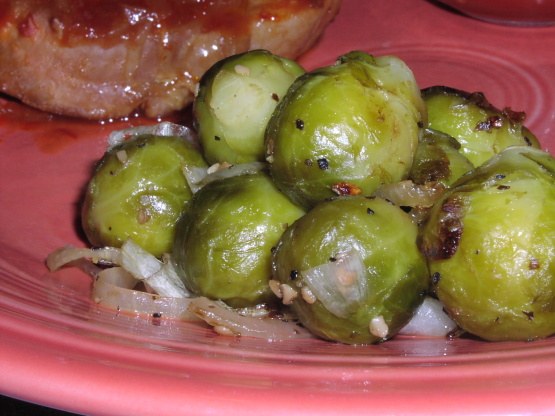 I got this from eat better America and it is great. It says it serves 2, I usually use about a pound of sprouts and several cloves of garlic for our whole family. I've made this several times now and we like to cook it longer so they are nice and brown.
Preheat the oven to 450degrees. Remove any wilted or yellowed leaves from the brussel sprouts and trim the stem close to the heads. Cut each vertically into thin slices.
Break the onion into rings and add to the sprouts along with the garlic and a light sprinkling of salt. Spray generously or drizzle with olive oil, toss the vegetables to coat them lightly with oil. Spread out evenly in a non stick baking dish. I think you could also spray a baking sheet or line it with foil.
Bake for about 15 minutes or until the vegetable are lightly browned and tender, stirring once or twice as they roast.