Roasted Brussels Sprouts and Garlic
Parsley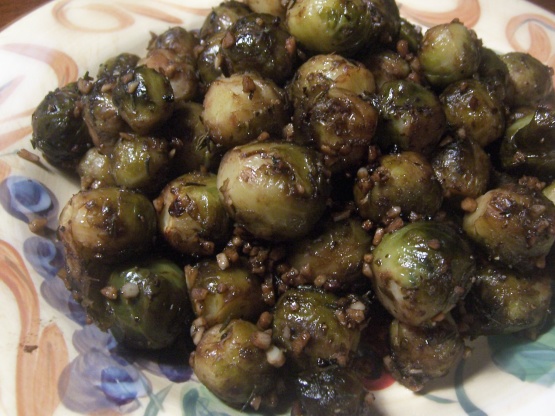 Galicky brussels sprouts! If you can't find decent fresh sprouts, use frozen.

I liked this recipe but it didn't really knock my socks off. I love roasted sprouts but usually roast them at a higher temperature. They were not as tender as I like them, and cooked them the time stated, and they were not large. I think at the higher temp they seem to get more "creamy" (for lack of a better word) in the center. The outsides get a little crispier as well, which I really like. The balsamic and garlic are a nice touch. Very easy to prepare.
Preheat oven to 375 degrees.
In a small bowl, combine olive oil, balsamic vinegar, sugar, salt and pepper and mix well; set aside.
Place Brussels sprouts, chopped garlic, and fresh thyme leaves in a shallow baking dish. Evenly pour the reserved oil/vinegar mixture over top. Toss a little to evenly coat.
Bake for 30 - 40 minutes (depending on the sides of your sprouts) or just until tender and the edges begin to brown.