Prep 15 mins
Cook 35 mins

This a wonderful recipe for Brussel sprouts with not much embellishment......just the way we like them. Courtesy of Ina Garten, The Barefoot Contessa.
Directions
Preheat oven to 400 degrees.
Cut off the brown ends of the Brussels sprouts and pull off any yellow outer leaves.
Mix them in a bowl with the olive oil, salt and pepper.
Pour them on a sheet pan and roast for 35 to 40 minutes, until crisp on the outside and tender on the inside.
Shake the pan from time to time to brown the sprouts evenly.
Sprinkle with more kosher salt and serve immediately.
Reviews
Most Helpful
These are incredible! I do toss in some minced garlic, beyond that I exactly follow the directions. I do not add additional salt at the end as they are already pretty salty. I made these twice in the same week when I first found this recipe, so simple yet delicious!

These are great! Kids gobble them up like they're eating candy! I've made these for holidays the past few years and I was asked to bring to Easter dinner tomorrow. I add some garlic and carrots.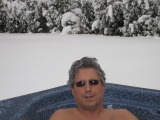 Simple and delicious!