Roasted Broccoli With Cherry Tomatoes

I happened to catch Down Home with the Neelys the other day and they made this wonderful dish. I couldn't wait to make it and it didn't disappoint! I have used a sliced firm tomato and it works ok, I think the cherry tomatoes are better.
Directions
Preheat oven to 450 degrees F.
Add broccoli, shallots, tomatoes, garlic, red pepper and oil into a large bowl.
Sprinkle with salt and pepper.
Toss to coat and spread onto a large baking sheet.
Roast until the stems are tender-crisp and lightly golden brown. (about 18 min.).
Grate the parmesan cheese over the broccoli while it's hot.
Serve and Enjoy!
Most Helpful
Very tasty. I love the smell of roasted garlic. Roasting the broccoli seems to improve the taste measureably (not that I don't like broccoli, but my BF decided he did after this). 4 tablespoons of oil is excessive. I would have added maybe 3-4 teaspoons, but my BF had already added 2 tablespoons (he was helping me cook, and frankly he should have known better than to add all that oil). So, this dish turned out to be too oily for me, but otherwise the taste was great so I give it 5*.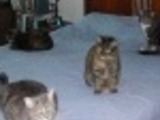 A very colorful & tasty way to serve broccoli! Another time I might cut back a little on the red pepper flakes, but that's just my preference, & as is, this makes for a WONDERFUL SIDE DISH, & a definite keeper of a recipe! [Tagged, made & reviewed in Please Review My Recipe]
Oh, roasted broccoli never disappoints! I did halve the oil and red pepper flakes.