Roasted Broccoli With Ancho Butter
Rita1652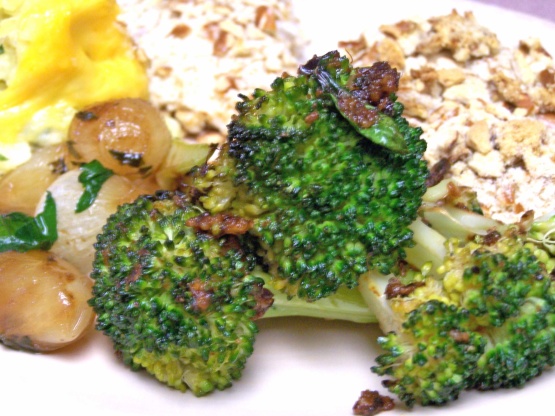 This delicious recipe can easily be cut in half or two-thirds for a family dinner. The ancho chiles are a perfect complement to this dish! Loaded with flavor and a true crowd pleaser. The recipe can be prepared through Step 3 and refrigerated for up to 3 days. Found in Food & Wine: Thanksgiving CookItNow
Mmmm...crunchy, spicy, yummy! And so different from the usual broccoli recipes. I had to substitute few ingredients, but I doubt if it really made that much difference and we loved it regardless. As far as I know we don't get ancho chilies in Finland and I just used jalapenos from the jar, about 1 oz. I did not have pine nuts and I cannot blame this country for that, but I think almonds substitute them pretty well. The crumb mixture is superb, making the roasted broccoli really flavorsome. The heads of broccoli toast nice and crispy in oven, but the stalks never seem to get soft enough, even peeled, so I personally would just omit the stalks from roasted broccoli recipes generally and use them in broccoli salads etc...
Preheat the oven to 450°.
In a heatproof medium bowl, cover anchos with boiling water and let sit until softened, about 20 minutes. Drain the chiles and pat dry with towel. Discard stems and seeds, then coarsely chop.
While the anchos are softening, heat 2 tablespoons of the olive oil in a small skillet until shimmering. Add pine nuts and cook over moderately high heat, shaking pan, for about 3 minutes or until lightly browned. Add garlic, cumin and coriander and cook, stirring, until the garlic is softened and the pine nuts are deep golden, about 1 minute longer. Set aside until cool.
In a blender or food processor, puree the pine nut mixture with the anchos and butter. Season the ancho butter with salt and transfer to a bowl.
In a large mixing bowl, toss broccoli with the remaining olive oil and spread onto 2 large rimmed baking sheets. Roast the broccoli in the upper and lower thirds of the oven for 15 minutes, or until crisp-tender. After 7 minutes swap shelves and rotate pans. Transfer broccoli to a bowl and toss with the ancho butter. Season with salt and return to baking sheets and roast for 10 minutes longer, or until the broccoli is tender. Arrange broccoli on a platter and serve warm or at room temperature.