Roasted Broccoli and Cauliflower
Prep 15 mins
Cook 25 mins
My friend Beverly made this recently for a group at our church and I loved it. I could eat it every week.
Directions
chop vegetables in large bite sized pieces.
combine all ingredients in a bowl or ziplock toss to coat and let stand to marinate 10 minutes.
pour out onto a shallow baking pan and roast in 475 degree oven for 25 minutes. May cook faster or slower depending on the size of your vegetables.
Reviews
Most Helpful
I had trouble with the broccoli being done sooner than the cauliflower. I would recommend putting the cauliflower in about 5 minutes and then adding the broccoli. The lemon juice was a little strong for a few members of the family. We all enjoyed our first time having these vegetables two roasted.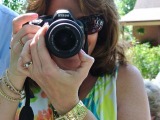 At first I wasn't sure I liked the lemon in this recipe. However, after the vegetables sat for a bit, the lemon was quite nice!
I used more salt and pepper and olive oil as well.
Very good recipe! One I will be making again!
Thanks for sharing..

add 5 minutes with parmigiano shredded and its perfect!!!