teresas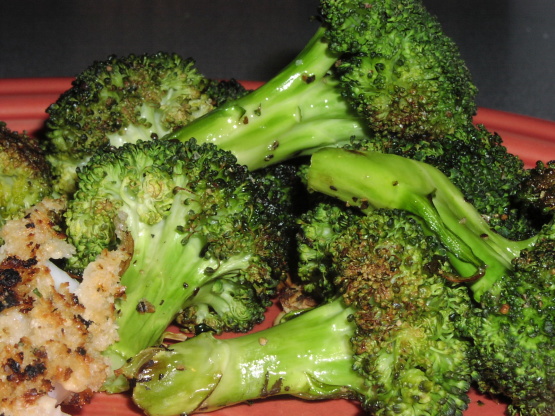 Adapted from Southern Living, this is my new favorite way to prepare broccoli. Serve alongside a simple preparation of a meat dish.

I adore the idea of this recipe, but i have tried it several (more than three) times, and every time the broccoli becomes extremely dried out and burns within minutes (and the garlic gets incinerated) far short of the cook time listed.
Variations I have tried included using less oil, using more oil and tossing the broccoli in it, leaving more rinse water on the broccoli to lend more moisture, buying broccoli from a different market, and reducing the heat 50 degrees while attempting to cook it longer. My oven is pretty dead-on in its' temperature setting, so that was not the issue, but I may try reducing the temperature even further.

I SO want this recipe to work for me, but as of now, I have not been able to replicate edible results. =( The recipe does not mention covering the dish, but I may also try that someday.
Place first 3 ingredients in a baking pan. Drizzle with oil, and toss.
Bake at 450°, stirring occasionally, 20 to 25 minutes or until lightly browned. Sprinkle with salt, pepper, and cheese, tossing to coat.