Roasted Beets With Toasted Pine Nuts and Arugula
BarbryT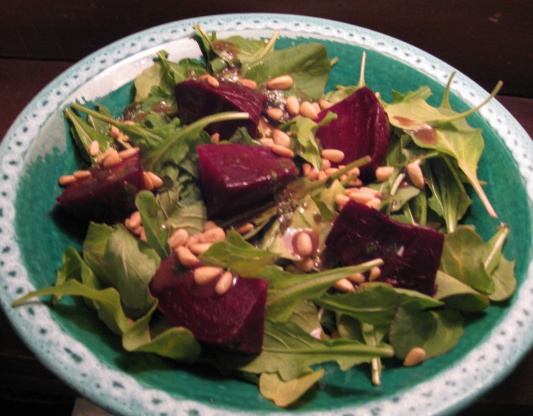 A very nice salad, but not a real favorite for me. Roasting the beets with the cumin cut the sweetness of the beets quite a bit, making them more savory. I do like the crunch of the pine nuts and the slight bitterness of the argula. The combination is good. Thanks for posting it!
Adjust an oven rack to the middle position and heat the oven to 400 degrees. Toss together the beets, cumin seeds, 1/2 teaspoon salt, and 1/2 tablespoon olive oil in a large bowl. Wrap each beet separately in aluminum foil and place on a rimmed baking sheet. Cook the beets until soft and easily pierced with a paring knife or skewer, about 1 hour. Once the beets are cool enough to handle, peel them by rubbing them with a paper towel—the skin should slide right off. Cut each beet into 6 or 8 wedges.
Toast the pine nuts in a medium skillet over medium heat, stirring frequently, until light golden, 5 to 6 minutes. Transfer the nuts to a small bowl and set aside.
Process the remaining olive oil, sherry vinegar, balsamic vinegar, mustard, 1/8 teaspoon salt, and a pinch of pepper in a blender until fully emulsified, 20 to 30 seconds. Stir in shallot and adjust the seasoning with salt and pepper. Toss the beets with 1 tablespoon of the vinaigrette in a medium bowl.
Toss the arugula with the remaining vinaigrette in a medium bowl. Divide the arugula equally among chilled salad plates and top with the beets. Sprinkle with the pine nuts and serve immediately.