Roasted Beets With a Rosemary Glaze
Paula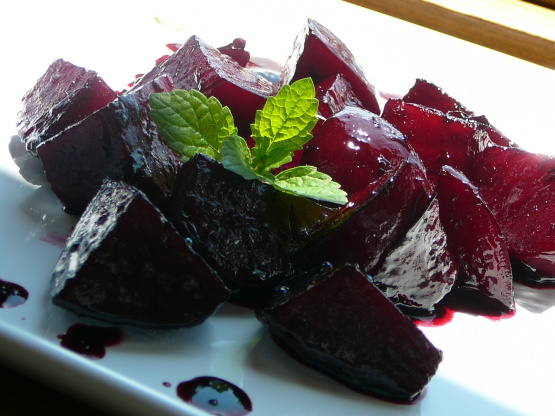 I love fresh roasted beets. I can eat them for breakfast, lunch and dinner. This dish can be prepared in advanced and warmed up in the oven...making last minute prep work a snap!

Top Review by Paula
I went out to my garden and discovered some beets ready for picking...came in and prepared this for lunch! Very bright flavors come through with this exceptional glaze! Next time I may try it with a different herb other than rosemary. A dish that tastes as wonderful as it is beautiful to the eyes. Thank you for posting!
Wrap beets in foil in a single layer. Bake in 400 oven for 1 hour, or until tender.
Cool beets slightly. Scrape off skins while beets are still warm. Cut into wedges. (can be made ahead of time to this point).
Heat oil in large skillet on med high heat. Add beets and toss to coat with oil. Add vinegar and sugar. Bring to a boil.
Add rosemary and water. cook for 8 - 10 minutes, or until liquid evaporates and beets are well glazed. Season with salt and pepper. (can be made ahead of time to this point).
Note: If made up in advance, heat the beets for 1/2 hour at 350.