Roasted Beets in Gingered Syrup
Prep 15 mins
Cook 20 mins
Directions
Oven at 325.
Put beets in large roasting pan,drizzle with oil and sprinkle with pepper,cover with heavy duty foil bake 1-1 1/2 hours till tender,cool Combine vinegar,sugar,ginger,cloves,bay leaf and salt in a pan simmer on low till syrupy about 20 minutes.
Strain and cool.
Peel beets and slice.
Pour syrup over beets put in refrigertor over night.
Serve chilled or room temp.
Most Helpful
Fantastic!
A wonderful beet preparation! The flavors are perfect. I roasted my beets by wrapping the cleaned and trimmed beets in foil --no oil and no seasoning. The skins just slipped off after roasting.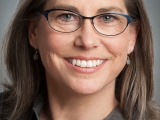 Delicious. I didn't have cider vinegar, so used balsamic. I also left out the bay leaf. Once the syrup was done, I fished out the cloves and dumped it, ginger and all, over the beets. I tried a couple while warm. Outstanding! Could certainly be a warm side dish as well as cold.