lets.eat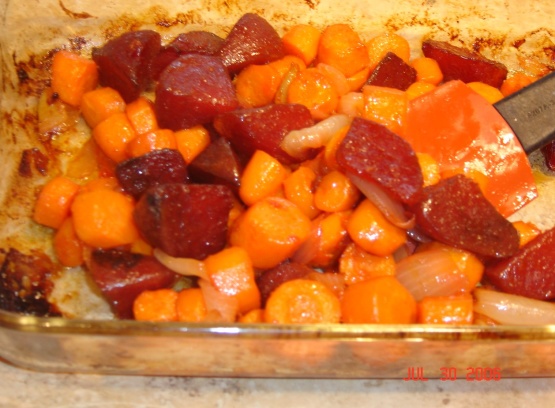 This is a quick shortcut recipe where you have all your veggies in one dish in 10 minutes. I use the ready peeled baby carrots but regular peeled carrots cut in 1/2 inch diagonal slices will do. Steam your carrots ahead of time. I like to add a quartered onion or two to the casserole but remember that they will still be crisp after the 25 minute baking time

easy to make and really good. I will make this recipe again! Thank you for sharing the great recipe
1

(14 ounce) canof rosebud beets, well drained, cut in half (or quartered depending on their size)

2

cups carrots (either baby carrots or peeled, 1/2 inch slice, steamed until tender)
vegetable oil, a spray

3

tablespoons Catalina dressing
3⁄4 teaspoon ground ginger
Preheat oven to 375°F.
Lightly spray your prepared carrots with veggie oil (I use Olive oil) and place in a casserole dish large enough to accommodate the beets as well.
Mix Catalina dressing with the ginger.
Add beets to the carrots along with the dressing.
Toss.
Place in heated oven for approx 20-25 minutes or until heated through and lightly glazed.
If you want them well browned place under broiler (6" from heat source) for the last 10 minute.
Turn them over a couple of times as they are baking.
Wonderful served with pork or chicken.