karen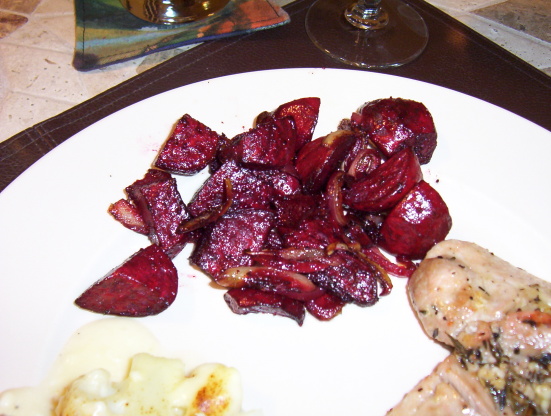 I was looking for a savory new way to prepare beets, so this is what I came up with. I liked it so much I wanted to post the recipe here so I can make it again!

Top Review by Gaia22
This was a simple, cheap, and yummy way to prepare some fresh savory beets. I halved the salt amount, and it was still a bit salty though. Next time I will quarter the salt amount. 45 minutes roasting at 400 worked out perfectly for me, and everything was nice and carmelized:) Thank you for sharing! I will definitely be repeating this recipe again.
Peel the beets and cut into 1/2 inch cubes.
Halve and slice the onion.
Toss the vegetables with the oil, salt, pepper and vinegar.
Bake in a single layer in a roasting pan at 400 degrees for 45 minutes, stirring several times.