Roasted Beet Salad With Horseradish Cream Dressing
Leslie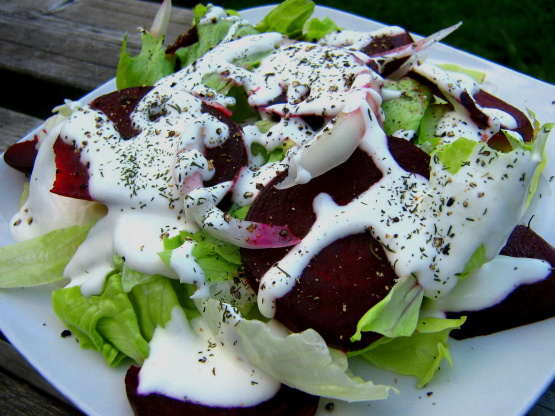 This combination of sweet beets and hot horseradish is a mild, delicious taste treat and a great side dish with grilled meats. A twist on the presentation of the Eastern Europen dish called Tsvikly. From Food and Drink magazine. Hope you enjoy! *Note, please use a very hot, prepared horseradish sauce to offset the mildness of the cream. If you do not have hot horseradish, then please be prepared for a very mild flavoured dressing!

The dressing on these beets was oh-so-good (be sure to include the horseradish)! I made my life very easy and used some vacuum-packed pre-cooked beets that I had in my pantry. Also, did not use the lettuce - just beets, onions and dressing for us. Thanks.
Preheat oven to 375.
Wash and trim beets, but do not peel.
Place on a large piece of foil and sprinkle with salt and pepper, then fold up in a loose package sealing seams tightly.
Place foil package on a baking sheet and roast for 1 hour or until beets are tender.
Let cool, then peel and thinly slice the beets.
Refrigerate until serving.
Whip cream until thick but not stiff, fold in sour cream and horseradish and season with salt and pepper.
Refrigerate until serving.
To serve, slice onion into thin rings, divide lettuce among serving plates.
Top with beet slices and onion rings and drizzle with dressing.
Sprinkle dill on top.