Roasted Beet, Pear and Feta Salad
jenne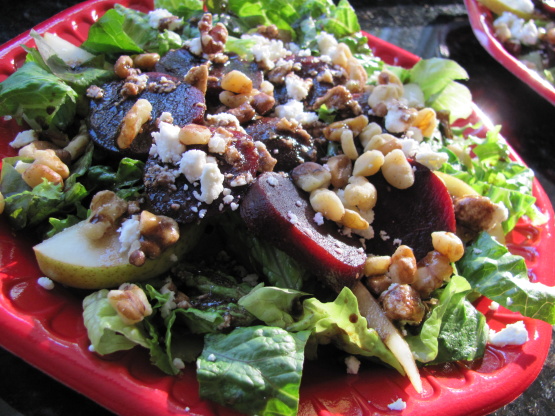 I cut this salad recipe out of a weekly local newspaper the other day and haven't had the chance to test it. I would like to try golden beets for the red beets. If you cannot find mache (lamb's lettuce), substitute butter lettuce or fresh mixed greens. Serve with crusty French bread!
Prepare dressing and set aside.
Preheat oven to 400 degrees. Individually wrap the beets in aluminum foil and roast for about 1 hour, or until tender when pricked with fork. Allow cooked beets to cool then cut into 1/4" slices.
Gently toss the beets in a large salad bowl with the mache, red leaf lettuce, pears and feta. Garnish top with the toasted almonds.
Serve dressing on side.
NOTE: I guessed the yield.